Running an efficient, profit-propelling enterprise requires a store manager who can perform a careful balancing act.
Maximizing back office efficiency means doing more with less while maintaining quality and service. With Catapult's powerful Web Office reporting and management tools, striking that balance is easier than ever before.
Work Smarter with Web Office
Web Office is Catapult's powerful, web-based, back office enterprise management hub. Whether you run an enterprise with one location or 1,000 locations, Catapult Web Office provides all the tools you need, you gain 360-degree insight for effective and efficient back office management.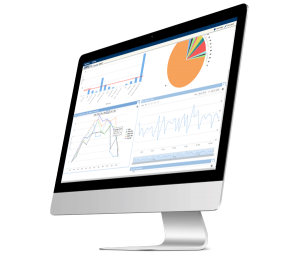 Access from anywhere
Catapult Web Office® allows information to be accessed from any location with a secure internet connection, including tablets and smart mobile devices, giving executives more mobility.
Security control
You decide who has access to what information.
Keep your data
Store data is valuable commodity. Data acquired through Catapult is yours to keep. What's yours remains 100% yours.
360-degree, item-level deep dive
From one intuitive screen, see all activity on any specific item including; receiving, adjustments, credit memos, transfers, physical counts and grading.
Universal Product Database
ECRS-powered retailers can use Web Office to effortlessly share item level data with one another. They can put this data to use in their stores; information like health attributes, brand, item image, size, receipt alias and suggested retail price.
Extensive Reporting and Analytics So You Can See Everything
Executives and back office managers have Catapult's powerful tools at their fingertips at all times. Any actions performed by authorized users will automatically update across the Catapult system, including pharmacy, fuel, and fresh foods. With Catapult Web Office® you gain 360-degree insight into enterprise information.
300+ Reports
Through Catapult'S Web Office, retailers can access 300+ reports on performance and operations, for enterprise insight. These reports were established from best practices and Catapult user requests. Each available report can be filtered by a multitude of data dimensions.
Visualized Executive Business Intelligence
Catapult features a built-in visualization intelligence tool, Dash™. Using graphical "widgets" Dash allows executives to see important information in graphic form, and to drill deep into the source data. Executives can configure their dashboard based on their preferred layout and most used data widgets.
Briefcase™-OLAP Cube
With Briefcase™-OLAP Cube executives are empowered with a dynamic decision-making tool that allows them to quickly view, compare, and make decisions on information within the enterprise.
Available business intelligence includes:
Allocation & Assortment Planning
Campaign & Promotion Performance
Cashier Performance
House Charge Accounts & Balances
Individual Store Performance
Store-to-store Comparison
Item Sales Comparison
Key Performance Hourly Sales
Workforce Optimization from Historical Data
Membership Management
Net Margins by Item, Brand, & Supplier
Pricing & Margins
Sales Audit
Real Time & Historical Sales Data
Supplier Performance
Customer Performance
Product Information Management
Loss/Fraud Detection
Inventory and Supply Chain Functions
Enterprise executives can access inventory functions within the Catapult suite from any back office workstation for smarter stock management, optimized ordering, and smooth sales floor operations. You can also perform multi-store and warehouse inventory functions, including direct store delivery (DSD) from a single back office workstation.
Optimized ordering
Eliminate out-of-stock scenarios and cut excess inventory costs using Catapult's efficient, powerful inventory tracking, demand forecasting, and automated replenishment functions.
Smarter stock management
Catapult delivers a seamless 360-degree supply chain management solution. Gateway eliminates the need to rely on middlemen, cutting costs and facilitating direct two-way communication between your business and suppliers.
Keep your salesfloor running smoothly
Inventory tasks can be carried out on-the-go with the Catapult HHT (Hand Held Terminal) mobile application, a powerful mobile extension of the Catapult retail automation system.
Loyalty and Automated Marketing Functions
Executives can use Catapult's loyalty tool, LoyaltyBot® to increase the size and lifetime value of their customer base. You also use Catapult's back office functions to organize automated marketing campaigns, manage self-hosted gift card programs, and access membership data.
Use LoyaltyBot to Keep customers coming back
ECRS' LoyaltyBot® eliminates reliance on additional third parties and immediately adds multiplying value to your rewards-based marketing efforts.


Automate your marketing campaigns
Configurable email campaigns and automated loyalty triggers that can be set from the back office provide incentives for customers to return or increase their spend with your store.
Self-Hosted Gift Cards
ECRS offers a completely self-hosted, easy-to-use gift card system that eliminates the need for reliance on additional third parties.
Hassle-Free E-Coupons
Executives can create custom configured digital coupons using criteria that they choose.
Accounting and Employment Functions
Catapult's back office management tools also extend into functions for accounting, payroll deductions, and associate performance tracking–further eliminating the need for additional third parties so your stores stay running soundly.

Authorization Security
Control who accesses what within your retail management platform. From cashier logins to manager overrides to supplier ordering, Catapult can be configured according to each employee's role.
Payroll Deduct
Payroll Deduct simplifies the process of deducting employee house charges from paychecks, automating a tedious task and reducing labor costs.
Track Employee Performance
Catapult's powerful reporting tools allow store managers to track employee performance and output based on key data indicators.
General Ledger Interface
This enterprise-class solution is designed to streamline the capture of all General Ledger activity providing complete accounting for tenders from the register to the bank. You can quickly translate store process activity and transaction data from your store(s) into credits and debits that can be automatically replicated to HQ for a seamless and direct integration into your accounting system.